The mission of Snyder ISD is to empower everyone to pursue excellence every day. From a dual-language program for primary school students to the P-TECH High School, award-winning arts programs, and state-advancing extra-curricular opportunities, SISD is proud to offer something for everyone.
Snyder ISD uses data-driven instruction and lesson alignment to tailor educational experiences to the needs of the students.
We also value social-emotional learning, especially in the wake of COVID, to help students recognize and move past barriers to learning. In younger grades, we use morning meetings and circles; in older grades, we utilize the Capturing Kids' Hearts program.
Core Curriculum Resources
| | | | | | |
| --- | --- | --- | --- | --- | --- |
| | ELA | Math | Science | Social Studies/History | Support Resources |
| Primary | | | | | Beanstack, iXL, My Path |
| Intermediate | | | | | Beanstack, iXL, My Path |
| Junior High | | | | | |
| High School | | | | Pierson | |
At Snyder ISD, students' academic progress is regularly measured through a variety of tools. The three most commonly used methods for assessing student performance are listed below.
1. Grading Cycles - Skyward
Parents are strongly encouraged to check Skyward regularly to ensure students are turning in their work and succeeding in classes.
2. Measuring Academic Progress (MAP) Testing
You will hear your teachers refer to "MAP testing." MAP is an acronym for Measure of Academic Progress and is an adaptive assessment that helps teachers, parents, and administrators improve learning for all students and make informed decisions to promote a child's academic growth.
Children learn better—and faster—when teachers have a clear picture of what students know and how they are growing academically. MAP Growth is a computer-adaptive test. If your child answers a question correctly, the next question is more challenging. If they answer incorrectly, the next one is easier. This type of assessment challenges top performers without overwhelming students whose skills are below grade level.
What it measures
MAP Growth uses a RIT scale to accurately measure what students know, regardless of their grade level. It also measures growth over time, allowing you to track your child's progress throughout the school year and across multiple years. Once your child completes a MAP Growth test, they receive a RIT score.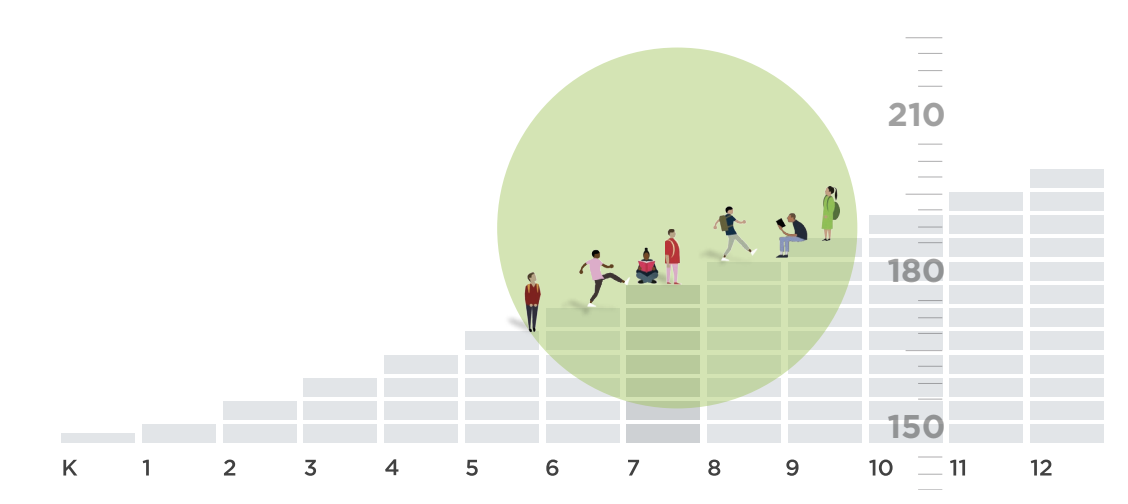 Your child's RIT score
RIT scores have the same meaning across grade levels. If a fourth-grade student and an eighth-grade student have the same RIT score in reading, then they are testing at the same level in that subject. This stable scale allows teachers to accurately measure each student's academic growth throughout the school year and over time. You can use your child's RIT score to help them meet their goals. For example, students can enter their RIT scores into our college explorer tool to see which colleges and universities they're on track to enter. You can also ask your child's school about educational resources that use MAP Growth RIT scores to provide personalized learning resources.
COMMON QUESTIONS
How do schools and teachers use MAP Growth scores? Teachers can use the scores to identify learning areas that their class should focus on, as well as monitor the growth of individual students. Principals and administrators can use the scores to see the performance and progress of a grade level, school, or the entire district.
Can MAP Growth tell me if my child is working at grade level? Yes, but please note that MAP Growth scores are just one data point that teachers use to determine how a student is performing. Please discuss any questions that you have about your child's performance with their teacher.
How often will my child take MAP Growth tests? Most schools give MAP Growth tests to students at the beginning, middle, and end of the school year (in the fall, winter, and spring). Some schools choose to administer tests only twice a year.
What are norms? NWEA provides schools with norms by utilizing anonymous data from more than 10 million students around the US. Knowing the top, middle, and bottom scores of all these students combined allows teachers to compare where your child is to other students and help them grow. In addition, NWEA provides comparison data for private, accredited, English-based, international schools using MAP Growth outside the US.
Is MAP Growth a standardized test? MAP Growth is administered periodically during the school year. Instead of asking all students the same questions, it adjusts to each child's performance—giving a more accurate measure of what they know. Teachers also receive results right away, which enables them to react more quickly.
What types of questions are on MAP Growth tests? The MAP Growth tests include multiple choice, drag-and-drop, and other types of questions. For sample tests, visit Warmup.NWEA.org
Who? All public school students in Texas, grades 3–12, take STAAR tests.
What? STAAR is the state's testing program and is based on state curriculum standards in core subjects including reading, writing, mathematics, science, and social studies.
When? Grades 3–8 STAAR tests are given in the spring. End-of-course assessments (EOC) are given throughout the year. The number of tests your child takes each year will depend on what grade he or she is in. Most students will have two to four testing days during the school year.
Where? STAAR tests are given to students at their own school, in regular classrooms that have been set up to make it easy to focus on the test. If students have certain special needs and require special accommodations, they may be tested in a different area of the school.
Why? STAAR tests are designed to measure what students are learning in each grade and whether or not they are ready for the next grade. The goal is to ensure that all students receive what they need to be academically successful. Meeting these individual student needs depends greatly on schools, parents, and community members working together.
How? STAAR tests for grades 3–8 and EOC assessments are offered in both online and paper formats.

Kathy Scott
Director of Instructional Services
325-574-8900