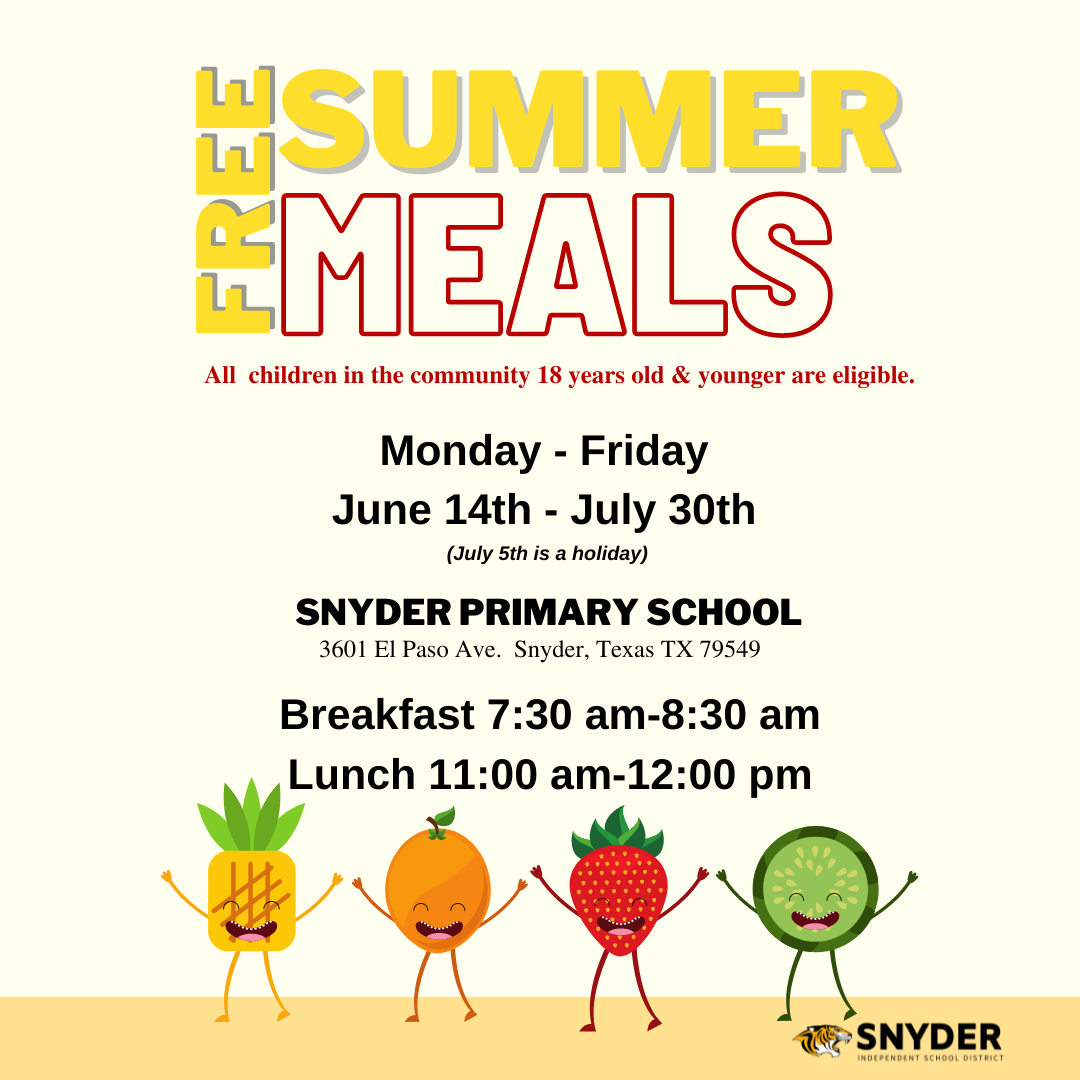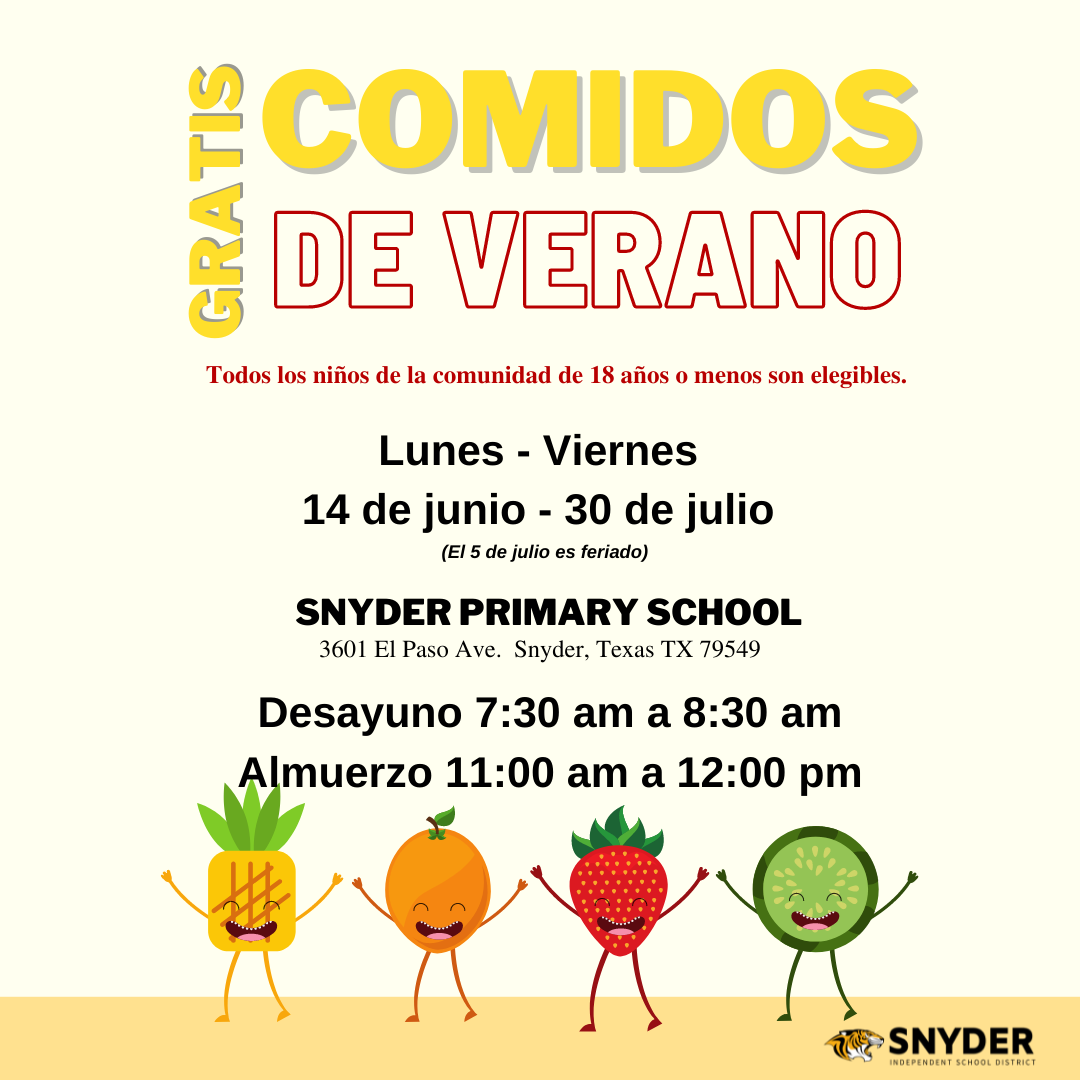 The free meals program for the school year is an extension of the USDA program. Completion of the Free and Reduced lunch forms is important to have on file for your child in the event this program is not extended in the fall.
Dear Parent/Guardian:
Children need healthy meals to learn. Snyder ISD offers healthy meals every school day. Breakfast costs $1.40 for High School – students Pre-Kindergarten through 8th grade are free; lunch costs $2.20 for Primary and Intermediate, and $2.35 for Junior High and High School. Your children may qualify for free meals or for reduced-price meals. Reduced-price is$.30 for High School – students Pre-Kindergarten through 8th grade are free for breakfast and $.40for lunch. If you received a notification letter that a child is directly certified for free or reduced-price meals, do not complete an application. Let the school know if any children in the household attending school are not listed in the letter.
The questions and answers that follow and attached directions provide additional information on how to complete the application. Complete only one application for all the students in the household and return the completed application to Food Service, 325-574-8620, 2901 37th St, Snyder, Texas 79549. If you have questions about applying for free or reduced-price meals, contact Food Service Director, 325-574-8620 or foodservice@snyderisd.net.
Application
Application Instructions (English)
Application Instructions (Spanish)
Who Can Get Free Meals? (Exception made for 2020-2021 school year, see above)
Income—Children can get free or reduced-price meals if a household's gross income is within the limits described in the Federal Income Eligibility Guidelines.
Special Assistance Program Participants—Children in households receiving benefits from the Supplemental Nutrition Assistance Program (SNAP), Food Distribution Program for Households on Indian Reservations (FDPIR), or Temporary Assistance for Needy Families (TANF), are eligible for free meals.

Foster—Foster children who are under the legal responsibility of a foster care agency or court are eligible for free meals.

Head Start or Early Head Start—Children participating in these programs are eligible for free meals.

Homeless, Runaway, and Migrant—Children who meet the definition of homeless, runaway, or migrant qualify for free meals. If you haven't been told about a child's status as homeless, runaway, or migrant or you feel a child may qualify for one of these programs, please call or email Kathy Scott: kscott@snyderisd.net or 325-574-8900.

WIC Recipient—Children in households participating in WIC may be eligible for free or reduced-price meals.
What If I Disagree with the School's Decision About My Application? Talk to school officials. You also may ask for a hearing by calling or writing to Clay Cade: 2901-37th, Snyder, TX 79549 or 325-574-8900.

My Child's Application Was Approved Last Year. Do I Need to Fill Out A New One? Yes. An application is only good for that school year and for the first few days of this school year. Send in a new application unless the school has told you that your child is eligible for the new school year.

If I Don't Qualify Now, May I Apply Later? Yes. Apply at any time during the school year. A child with a parent or guardian who becomes unemployed may become eligible for free and reduced-price meals if the household income drops below the income limit.

What If My Income Is Not Always the Same? List the amount normally received. If a household member lost a job or had hours/wages reduced, use current income

We Are in The Military. Do We Report Our Income Differently? Basic pay and cash bonuses must be reported as income. Any cash value allowances for off-base housing, food, or clothing, or Family Subsistence Supplemental Allowance payments count as income. If housing is part of the Military Housing Privatization Initiative, do not include the housing allowance as income. Any additional combat pay resulting from deployment is excluded from income.

May I Apply If Someone in My Household Is Not a U.S. Citizen? Yes. You, your children, or other household members do not have to be U.S. citizens to apply for free or reduced-price meals.

Will Application Information Be Checked? Yes. We may also ask you to send written proof of the reported household income.

My Family Needs More Help. Are There Other Programs We Might Apply For? To find out how to apply for other assistance benefits, contact your local assistance office or 2-1-1.
If you have other questions or need help, call Food Service Director 325-574-8620.
si necesita ayuda, por favor llame al teléfono: 325-574-8620.
Snyder ISD is committed to providing school meal access for students that are learning in a virtual environment. Please refer to the frequently asked questions below.

Are meals free for all children?
Meals are typically not free for all children and Snyder ISD meals are priced based on a meal eligibility application. However, an exception has been made for the 2020-2021 school year, please see above.
How can I apply for free/reduced price meals?
Families are encouraged to apply for meal benefits on paper applications. These can be picked up at the Administration Building, the Primary School front office, or the Child Nutrition office located at the back of the Primary School.
What is the cost for Snyder ISD student meals? (2020-2021 school year excluded)
Students approved for free meals will be provided breakfast and lunch at no charge.
Elementary, Intermediate, and Junior High students approved for reduced price meals will be provided lunch for $0.40 daily.

High School students approved for reduced price meals will be provided breakfast for $.30 and lunch for $.40 daily.

Elementary and Intermediate School students not approved for free or reduced price meals will receive breakfast for no charge and $2.20 for lunch daily.

Junior High Students not approved for free or reduced price meals will receive breakfast for no charge and $2.35 for lunch daily.

High School students not approved for free or reduced price meals will be charged $1.40 for breakfast and $2.35 for lunch daily.
How can I add money to my child's meal account?
Students that are not eligible for free meals will need to have money in their account in order to receive meals. Funds can be added electronically to the student's account using the Skyward Family Access at www.SnyderISD.net. Funds can also be added at the time of pick up.

What happened to the money I had in my child's meal account before the school closure in March?
Funds that were in your child's meal account last school year are still available on the account if you have not already requested a refund. Account refunds can be requested at any time by calling 325-574-8620.

Where can I find the menu?
Menus will be posted at https://snyderisd.nutrislice.com/.
How do I order a meal for my child?
A separate document will be provided with instructions for ordering your breakfast and lunch meals through our Nutrislice app or website. All meals must be ordered the week before by Friday at noon.
What time is meal pick up?
Curbside meal distribution is scheduled for 11:45-1:00 pm on Mondays and Wednesdays at the Snyder Primary School. When ordering meals using the Nutrislice app, you will be able to choose a pick up time at your convenience between the above times.
Does the student have to be present in order to get a meal?
No. Parents can pick up meals for Snyder ISD students without the student present in the vehicle. Parents will be required to provide the student ID number and general student information in order to pick up the meals.
Can I have meals delivered to my house?
Snyder ISD will not be delivering meals at this time.
Can I get meals for children in my home that don't attend Snyder ISD?
Children that do not attend Snyder ISD can purchase a meal at the curbside program. The cost for a breakfast meal is $2.25 and for a lunch meal is $3.50 for non-Snyder ISD students or adults.
Who do I contact if I have questions about the meal program?
Please contact the Primary School Cafeteria Manager or call the School Nutrition office at 325-574-8620.