Absence Notes, Excused vs. Unexcused Absences & Truancy
A parent note is required for any absence and must be submitted to the campus PEIMS clerk within 3 days of the student's return to school. There are two ways to submit a note:
The student or parent may bring the parent-signed note to the attendance clerk at the campus

A parent /guardian may submit the attendance note through ParentSquare
Examples of excused absences include:
Observe a religious holy day

Attend a required court appearance

Serve as an election clerk

Personal illness

Death of an immediate family member

Medical/mental health treatment (note from the provider is required)

UIL Activities

School-sponsored athletic and school-sponsored extracurricular activities

College visits Juniors and Seniors Only (2 days per year)

Pursuing enlistment in a branch of the US Armed Forces (17 years or older)

A student serving as a voting or election clerk
It is the parent's responsibility to review campus handbooks for additional details and to ensure proper documentation is obtained and provided within the required timeframe.
Unexcused absence examples:
Being absent without parental consent or knowledge

Being absent without written notification from a parent or legal guardian

Religious festivals, ceremonies, or other events not celebrated or recognized by the international religious calendar

Weddings

Graduations not for the student

Family reunions

Vacations/Cruises

International Travels

Leaving campus during class or a lunch period without official permission

Being in an unauthorized area of the school or campus without permission

Willfully refusing to attend school

Oversleeping/Alarm failure

Needed at home for babysitting, chores, etc.

Car trouble

Missing the bus

Any other absence that is not covered under the law
A student absent for more than 5 consecutive days because of a personal illness must bring a statement from a doctor or health clinic verifying the illness or condition that caused the absence. Otherwise, the absence may be considered unexcused and in violation of compulsory attendance laws. Should the student develop a questionable pattern of absences, the principal or attendance committee may require a statement from a doctor or health clinic verifying the illness or condition that caused the absence to determine whether an absence will be excused or unexcused.
When should I keep my child home?
How can I help my child have a good start to their day?
Work with your child and his/her teacher to develop your child's strong attendance.
Set a regular bedtime and morning routine.

Lay out clothes and pack backpacks the night before.

Share ideas with other parents for getting to school on time.

Keep your child healthy and make sure your child has the required shots.
Build the Habit of Good Attendance
Ask family members or neighbors for assistance if you need help getting your child to school.

Call the transportation office to sign your child up for bus transportation inf needed.

Try to schedule medical appointments and extended trips when school is not in session.

If you are concerned your child may have Covid-19, keep your child home and call your school for advice.

If your child seems anxious about school, talk to the program director, teacher, doctor, or other parents for advice.
What happens if my child is absent?
Good attendance is important for many reasons. Your child receives the maximum benefit of education by being in school every day, and numerous studies show a strong link between academic performance and consistent attendance. Because attendance is so critical for the quality of your child's education, Texas has a compulsory attendance law.
State Law Requires Your Child to Attend School
State law requires children to attend school each day that instruction is provided. The law applies to children ages 6–19. If you voluntarily enroll your child in prekindergarten or kindergarten before age 6, school attendance laws apply to your child, too. A person who voluntarily enrolls in or attends school after turning 19 is also required to attend for the entire period of the program of instruction.
The following are a few exceptions:
Children who are enrolled in a private or parochial school

Children who are home-schooled

Students who are 17 years old and enrolled in a GED (high school equivalency) program

Students who are 17 years old and have received a high school diploma or GED certificate
Excessive absences
Both the child and parent are responsible for unexcused absences. Yes, even if your child is 16 years old and skips class without you knowing, you are considered responsible!
After too many unexcused absences, the school is required to notify the parent. A compulsory attendance notification will be sent to the parent if a student has unexcused absences on 10 or more days or parts of days within a six-month period or three days or parts of days during a four-week period. Notice it says "parts of days." This means that leaving school early, or arriving excessively late in the day, even if the child attended for some of the day, may count as an absence.
The compulsory attendance letter gives the parent notice that the student has accumulated too many unexcused absences and gives the parent a chance to correct the child's attendance record.
A student with excessive absences may also be subject to truancy prevention measures. These measures may include a behavior improvement plan, school-based community service, or a referral to counseling, mediation, or teen court. A student who is between the ages of 12 to 18 may also be referred to a truancy court within 10 school days of the student's tenth unexcused absence. In addition, parents may be criminally charged or fined if their child continues to miss school.
The 90 percent rule
In addition to compulsory attendance law, districts are required to enforce the 90 percent rule, which states that students in grades K-12 must attend class for 90 percent of the time it is offered to receive credit or a final grade. The 90 percent rule applies to most absences, including excused absences. If the student doesn't meet this requirement, an attendance committee may grant the student credit or a final grade, depending on the circumstances.
Contact the attendance clerk
If you have questions about an absence or need to submit an attendance note, you can either reach out on ParentSquare or submit an email to the appropriate campus
Snyder Primary (grades PreK-3)
primaryattendance@snyderisd.net
Snyder Intermediate (4-5)
intermediateattendance@snyderisd.net
Snyder Junior High (6-8)
jhattendance@snyderisd.net
Snyder High School (9-12)
hsattendance@snyderisd.net
Parents and Guardians can view Attendance Notices on their app or website and can submit notes back to the school.

Click send note to school.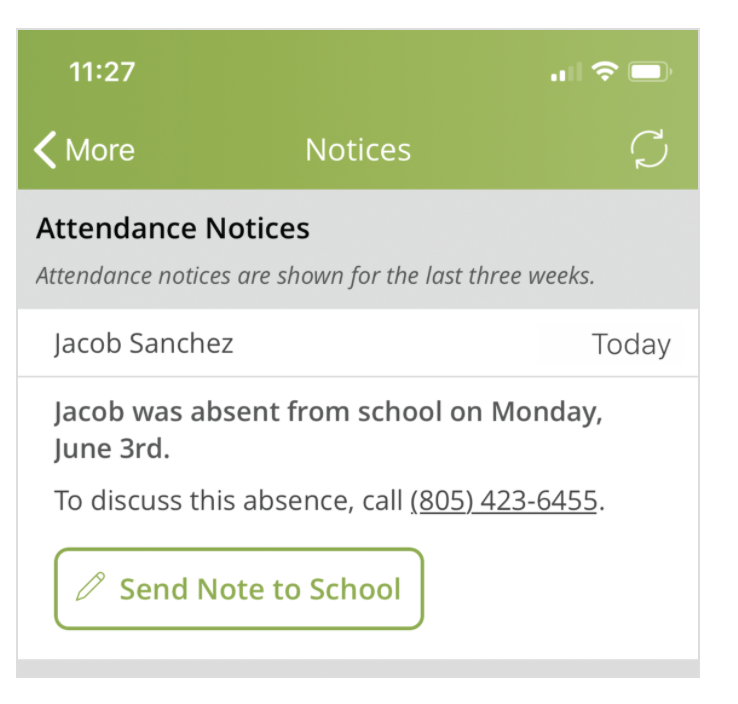 Enter the reason for the absence and click Submit.