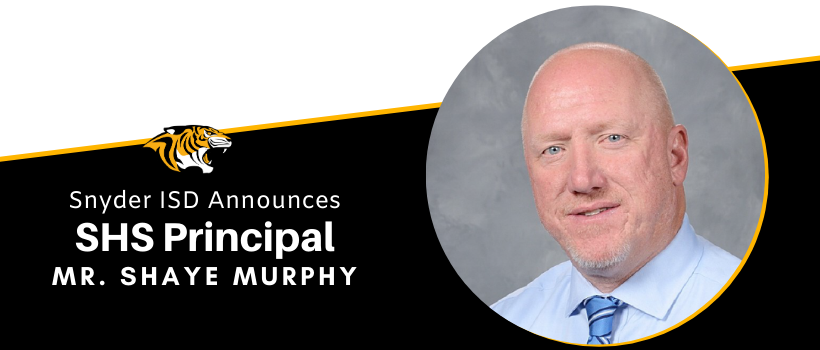 SHS Principal Announcement
Snyder ISD Communications
Thursday, April 23, 2020
The Snyder High School Principal Search Committee along with Dr. Eddie Bland, Superintendent of Schools for Snyder ISD, announces Shaye Murphy as the new principal of Snyder High School. This appointment culminates the extensive search process that began earlier this year.
Murphy, a current resident of Slaton, has served as the Success Coordinator for Seminole ISD. Prior to his role in Seminole, Murphy was the principal for Slaton High School for three years and Madisonville High School for five years. Mr. Murphy has a degree in Business Administration and a Masters of Educational Leadership, both from Sam Houston State University. He will replace Janell Martin who has accepted a position as the College, Career, and Military Readiness (CCMR) Director for Snyder ISD.
The search committee established a list of qualities and experience for the next principal of SHS which led to their unanimous decision to recommend Mr. Murphy. "I know that turnover has been a concern. He is a West Texas Native and his commitment to Snyder is sincere," Bland said.
Upon acceptance of his new position, Mr. Murphy stated, "I am excited and honored to be able to serve Snyder High School as principal. I enjoy everything that a school Snyder's size has to offer. It is large enough that every student can find a program to be a part of and it is small enough to develop positive relationships with every student. Growing up in this area of Texas, I have always admired the Snyder Tigers. I am looking forward to working with the staff and students here."