The standardized dress policy is established to promote an academic environment that best prepares students for professional life and contributes towards their personal development and social well-being. The policy was also developed in an effort to prevent disruption and minimize safety hazards.
Studies have shown a number of positive benefits of standardized dress, including improved campus morale and reduced discipline violations, increased school pride, and improved collaboration and teamwork among students. In order to maintain an orderly, positive, and safe environment, all students shall be required to meet the minimum expectations of the standardized dress policy. Dress and clothing that unduly attracts the attention of other students often precipitate comments and/or other reactions that are disruptive.
Safety, general health, and hygiene are factors that are also considered in the establishment of this policy. The provisions of the standardized dress policy shall be enforced equally with regard to all students to whom the provisions apply.
The following criteria for a student's personal dress are the minimum requirements.
Shirts must be polo style, short sleeve or long sleeve, or oxford style.
Collars MUST be worn and visible at all times.
The outside shirt color must be solid or striped (no graphics) black, gold, gray, white or a combination of these colors.

Brand logos larger than a 2" x 2" square area are not acceptable.

No more than two buttons on a shirt may be left unbuttoned. T-shirt/undershirt/camisole may be worn under the standardized dress shirt. A solid or striped black, gold/yellow, gray, or white are acceptable. See-through shirts are not acceptable.

The length of shirts must be within the boundaries between wrist and fingertips, shirts hanging below fingertips will be required to be tucked in.
Examples: Choice of black, gold, gray, or white (Can be striped with these colors)

Pants/Shorts/Dresses/Skirts
Should be solid tan, khaki, grey, or black and fitted at the waist and stride (not baggy).

No stretch material, leggings, sweatpants or "stretch" pants.

Pants/Shorts/Skirts must be worn at the waist level. Sagging will not be tolerated.

Dresses, skirts, and shorts must be 2 inches above the knee or longer.

Belts - Students may wear belts with their pants. Belts should be solid black, brown, or khaki.

Shoes – Shoes must have closed toes and a back or back strap across the heel. Flip-flops, crocs, slides, house shoes, slippers, and shower shoes are not allowed. Shoes with heels higher than 2 inches are not allowed.
Jackets/Sweatshirts/Cardigans/Sweaters
Jackets, crew necks, and regular sweatshirts may be worn over collared shirts.

Hoods and hats should NOT be worn inside the building unless on a designated day.

J

ackets will be allowed any color but no hoods or logos larger than 2 inches.

Sweatshirts and crew necks should not have hoods and should follow shirt colors of black, white, gold/yellow, or grey.
Friday is a Spirit Day.
There will be no more than one spirit day in a school week.

Students will be permitted to wear the following additional items on designated spirit days.

SISD School Spirit Shirts (with sleeves)

College T-Shirts (with sleeves)

Dark denim blue jeans with no holes, rips, repaired tears, or patches.

Students may continue to wear the standardized dress on spirit days.

Sagging will not be tolerated.
Examples of Spirit Day jeans that will be allowed: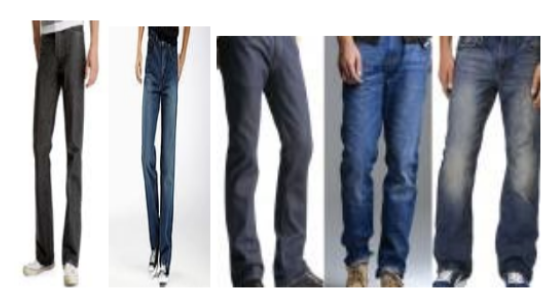 Examples of Spirit Day jeans that will not be allowed: