Homeless Students (McKinney-Vento)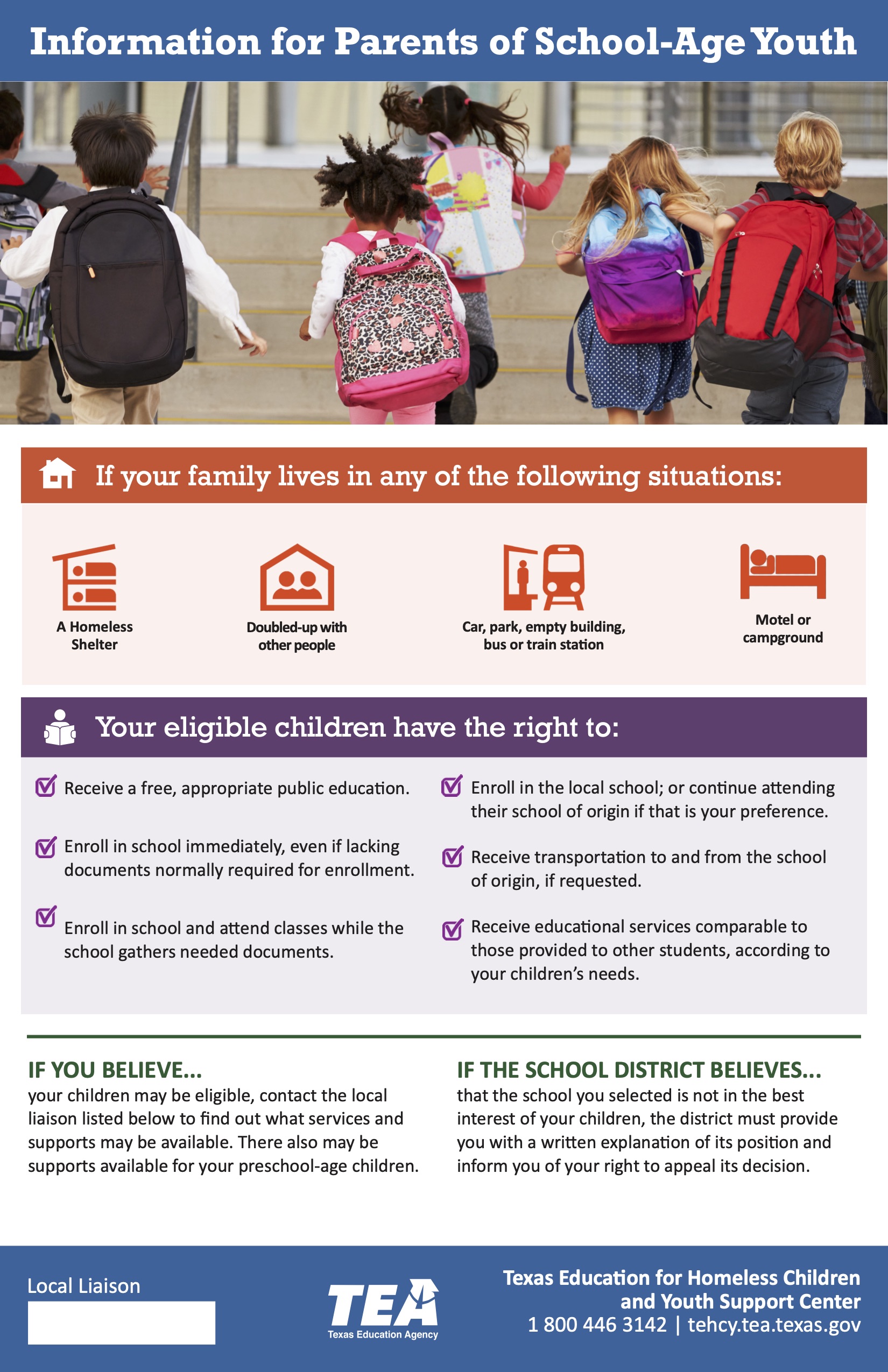 Homeless children and unaccompanied youth have the right to a free appropriate public education.
For more information or if you know of a student who you suspect may qualify as homeless or unaccompanied youth please call:
Kathy Scott
325-574-8675, Ext 5111
IT'S THE LAW!!
Public Law 107-110 McKinney-Vento Homeless Education Assistance Improvement Act of 2001
MCKINNEY-VENTO INFORMATION FOR PARENTS AND SCHOOL AGED CHILDREN
The Federal McKinney-Vento Act and Texas state law guarantee that you can enroll in school if you live
In a shelter (family shelter, domestic violence shelter, youth shelter or transitional living program);

In a motel, hotel, or weekly-rate housing; In a housing or apartment with more than one family because of economic hardship or loss;

In substandard housing (no electricity, no water, and/or no heat); or

With friends or family because you are a runaway or unaccompanied youth.
If you live in one of these situations, you do NOT need to provide
Proof of residency,

Immunization records or a TB skin test result,

Birth Certificate

School records, or

Legal guardianship papers to enroll in or attend school.
You may also:
Continue to attend the school in which you were last enrolled, even if you have moved away from that school's attendance zone or district;

Receive transportation from your current residence back to our school of origin;

Qualify automatically for Child Nutrition Programs (Free and Reduced-Price breakfast, lunch and other district food programs);

Contact the district liaison to resolve any disputes that arise during the enrollment process.
If you have questions about enrolling in school or need assistance with enrolling in school, contact: Ms. Kathy Scott at (325) 574-8675 ext. 5111
MCKINNEY-VENTO INFORMACIÓN PARA LOS PADRES Y LOS NIÑOS DE EDAD ESCOLAR
La ley federal de McKinney-Vento y las leyes estatales de Texas garantizan que puedes inscribirte en la escuela si vives
En un albergue (centro de hospedaje familiar, refugio para victimas de violencia doméstica asilo para jóvenes);

En un motel, hotel, o apartamento de renta por semana;

Compartiendo una vivienda con otra familia o algún pariente a causa do no poder encontrar alojamiento o por falta de recursos económicos;

En un edificio abandonado, vehiculo, parque, o en la calle al aire libre;

Con una madre o un padre de cría u otro adulto que no es tu padre o guardián legal;

En un casa o vivienda sin electricidad, sin agua y/o sin calefacción;

Con amigos, parientes o familiares porque eres un joven fugitivo o sin la compañía de tus padres o guardián legal.
Si vives bajo una de estas condiciones, NO tienes que proporcionar a la escuela
Prueba que vives en el distrito,

Certificado o datos de inmunizaciones,

Certificado o acta de nacimiento, o

Archivos o documentos escolares, o

Carta de poder o documentos de custodia para inscribirte o asistir a la escuela.
Puedes también:
Seguir asistiendo a la ultima escuela donde estabas inscrito, aunque has cambiado de residencia o domicilio y estas afuera de la zona de asistencia para esa escuela o ese distrito escolar;

Recibir servicios de transportación de tu domicilio actual a la escuela donde estabas asistiendo;

Participar automáticamente de programas de nutrición y alimentación por parte del distrito;

Participar de todos los programas y actividades escolares que se ofrecen a los demás estudiantes y a los cuales puedes ser admitido; y

Comunicarte con el oficial de enlace del distrito para ayudarte en resolver cualquier desacuerdo que se presente durante el proceso de inscripción en la escuela.
Si tienes preguntas sobre tus derechos o cómo inscribirte en la escuela o si necesitas ayuda para inscribirte en la escuela, comunícate con: Sra. Kathy Scott at (325)574-8675 ext. 5111