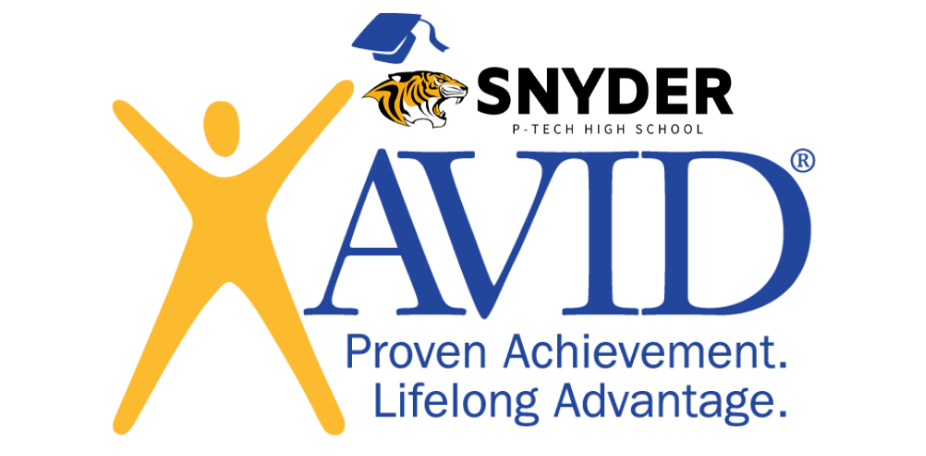 MOVING FUTURE LEADERS TOWARD COLLEGE SUCCESS AND BEYOND.
AVID, Advancement Via Individual Determination, makes learning more meaningful and engaging for high school students. Research tells us that the most powerful influence on academic achievement is a caring and connected teacher.
AVID STUDENTS MOVE TOWARD SUCCESS BY:
Enrolling in advanced courses
Receiving academic instruction and tutorial support

Strengthening their writing skills

Improving study and organization skills

Gaining "college knowledge"

Visiting colleges and explore careers
NATIONALLY, AVID STUDENTS EXCEL IN SUCCESS METRICS, WHICH IS IMPRESSIVE GIVEN THE ADVERSITY THEY FACE.
Underrepresented race/ethnicity

Parents have no college experience
AVID FREQUENTLY ASKED QUESTIONS
Is AVID a class?
Yes, AVID is a class that fits into the student's schedule and grades are taken.
What do students do in AVID?
Students in the AVID elective do team building activities and become part of an "AVID Family". This bond that students develop with the others in their class helps them to develop a very valuable support structure.Also during the AVID elective class, students learn note-taking skills that can help them succeed in all other classes. They explore college and career options while working with WICOR strategies. All students maintain an AVID binder where all of the materials for all classes are stored. Teachers grade students' notes from other classes as well as give binder grades for organization.
Is AVID an easy A?
No. Students in the AVID program work harder than many students because they are taught an effective way to study; AVID students put in the time and energy that others sometimes lack. Even though students work harder, they come to realize that the work is worth it when they see the benefits reflected in their grades, study habits and engagement in school community.
Is AVID for EVERY student?
No. AVID is only for students who want to be in the program and will work harder to be stronger students. Sometimes parents think the program is a good idea for their student; but if the student has no desire to be a part of AVID, it will not help them. In fact, students in the AVID elective who really shouldn't be there can hurt the entire class. AVID is only for students who have a desire to improve and have the INTRINSIC motivation to be successful.
Is AVID a remedial program?
No. Students chosen for the AVID program demonstrate strong academic potential.
Do students experience immediate results?
Not necessarily. It varies from student to student. AVID strategies must be implemented and used continuously to see results. Students and parents that expect AVID to be a quick fix have unrealistic expectations. AVID works after the students learn the importance of the strategies and begin to use them throughout high school in all of their classes. Some students see results as fast as by the end of the semester, while others may not see benefits emerge until later.
Is AVID a tutoring program?
No. AVID is not a tutoring program. However, students in AVID will learn to be owners of their learning through the AVID Tutorial Process where students will use a Socratic method to help their classmates find the answers to their questions.
Do students have to maintain a GPA to remain in AVID?
Yes. Students in the AVID program must maintain a minimum of a 2.5 GPA. There are interventions that will be taken when students struggle and the students are expected to be accountable for their grades and seek help from teachers as well as other ways to improve.
What is the process for students to get in to the program?
Students may complete an application to be in AVID, then they will be asked to interview with members of the AVID Site Team. After a critical look at the information gathered about each applicant, the Site Team will determine admittance into the program.
If a student applies, does that automatically mean they are in?
No. Students must meet the criteria mentioned above. If the student doesn't meet these criteria, they may be wait-listed. This means the class is at capacity, or more information is needed before admitting the student into the program.
If a student signs up for the course and does not like it, can they drop it?
Students may not drop the course in the middle of the year. Students should consider the program carefully before signing up. Students and parents will sign a contract for the year. At the end of the year, if a student is not progressing or is unhappy with AVID, they can request the process to exit AVID.
Who do I contact for more information?
AVID District Director: Mrs. Sherrie Whittenburg swhittenburg@snyderisd.net

AVID Elective Teacher: Mrs. Isela Snodgrass isnodgrass@snyderisd.net

Snyder High School Principal: Mr. Shaye Murphy smurphy@snyderisd.net
CHARACTERISTICS OF THE AVID STUDENT
AVID targets students in the academic middle
Students earning mostly B and C grades and occasionally a D

Have a desire to go to college and the willingness to work hard

Have regular attendance and minimal discipline problems

Are capable of completing rigorous curriculum but may be falling short of their potential

Typically, they will be the first in their family to attend college, and many are from low-income or minority families
The Student
Must be willing to be in AVID and not doing it only by parent request

Must complete an application, participate in an interview and make every effort to attend informational meetings
The Curriculum
The AVID curriculum, based on rigorous standards, was developed by high school teachers in collaboration with college professors. It is driven by the WICOR method which stands for Writing, Inquiry, Collaboration, Organization and Reading to learn

AVID curriculum is taught in the AVID elective class and students use those learned strategies to increase success in all other classes.
The AVID Elective Classroom
Students are taught study skills, focused note-taking skills, time- management, writing and research skills

Students also learn about colleges and universities and what it takes to get into them

Prepares students for college admission tests

Students may take field trips to college campuses and cultural events

Guest speakers from the community may speak to the class