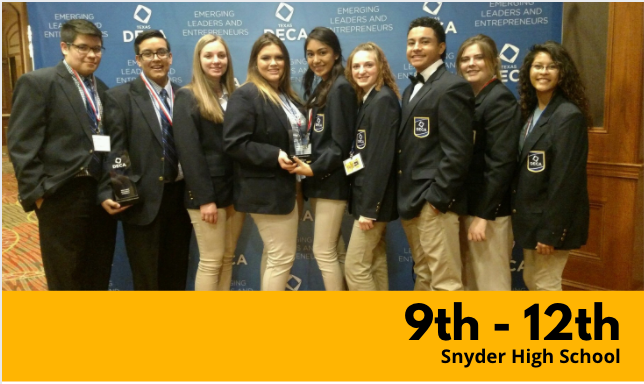 Pathways in Technology Early College High Schools (P-TECH)
Snyder ISD provides students with a seamless path from high school, to post-secondary education, to employment. In a P-TECH Academy, students earn a high school diploma and professional credentials. These include educational certificates, diplomas, and degrees. Students also engage in work-based education at every grade level, such as internships, apprenticeships, or other forms of job training programs.
With the support of the Texas Education Agency (TEA), we target thriving industries in the region, to address key workforce needs in high-demand fields. The P-TECH Model gives students an opportunity to:
earn an associate degree while earning their high school diploma

earn a two-year postsecondary certificate or industry certification

complete work-based training gain work experience through internships, apprenticeships, or other job training programs

Prepare for military enlistment
Mission: Prepare all students with the knowledge and skills to meet the needs of our local and global workforce.
Vision: All students will be equipped to succeed in college, career, or military pathways upon graduation from Snyder High School.
Opening Doors: Industry Based Certifications
PROGRAMMING & SOFTWARE | JAVA Certificate/CCENT)

NETWORKING SYSTEMS | Informational Technology Certificate / CCENT

RENEWABLE ENERGY | Associate of Science and/or FAA Section 107-Pilot License

PLANT SCIENCE | Floral Design Certificate

AUTOMOTIVE | Level 1 and/or Level 2 Certification and/or ASE Certification

OIL & GAS EXPLORATION & PRODUCTION | Petroleum CertificateWELDING | Beginning Certification

TEACHING & TRAINING | Associate of Arts in Teaching or Childhood Development - students may earn a Bachelors from Texas Tech University within one year of graduating High School

HEALTHCARE THERAPEUTIC | EMT, Phlebotomy, Pharmacy Tech, Medical Assistant

LAW ENFORCEMENT | Associate of Applied Science, Criminal Justice and/or Level 1 Certificate

WELDING | Beginning Certification
Students enjoy an array of academic options above and beyond the basics. Advanced courses are available through dual-credit college courses and honors courses in English, math, social studies, and science. Students may pursue their interests and try something new through a wide range of electives.
Athletics at Snyder High School is about more than a score. We emphasize moral character, perseverance, teamwork, and commitment.
Football

Volleyball

Tennis

Cross Country

Basketball

Softball

Baseball

Golf

Soccer

Track

Powerlifting
Learn more about Snyder ISD Athletics Programs here.
Award-winning programs in theatre, choir, art, and band provide an enriching and well-rounded education. Learn more about Snyder ISD Fine Arts Programs here.
Agriculture, Food & Natural Resources | Principles of Ag, Food & Natural Resources, Professional Standards in Agribusiness, Agribusiness Marketing & Management, Livestock Production, Small Animal Management, Equine Science, Floral Design, Horticulture Science, Advanced Plant & Soil Science, Food Technology & Safety, Food Processing, Ag Mechanics and Metal Technology, Energy and Natural Resources, Oil & Gas Production, Practicum in Agriculture, and Food & Natural Resources
Architecture | Principles of Architecture, Architectural Design, and Practicum in Architectural Design
Arts, A/V Technology & Communications | Principles of Arts, A/V Technology, & Communications and A/V Production with Lab
Business and Marketing | Principles of Business, Marketing & Finance, Business Information Management, Virtual Business, Human Resources Management, Advertising, Social Media Marketing, Entrepreneurship, and Career Preparation
Construction | Principles of Construction, Construction Technology, and Practicum in Construction
Culinary Arts | Principles of Hospitality & Tourism, Introduction to Culinary Arts, Culinary Arts, Advanced Culinary Arts, Practicum in Culinary Arts, CTED Culinary Arts, and CTED Hospitality Services
Education & Training | Principles of Education & Training, Human Growth & Development, Instructional Practices in Education & Training, and Practicum in Education & Training
Fine Arts | Art I, Photography, Sculpture, Graphic Design, Theatre, Theatre Production, Technical Theatre, Choir, Music Appreciation, Jazz Band, and Band
Health Sciences | Principles of Health Science, Medical Terminology, Anatomy & Physiology, Health Science & Theory, and Practicum in Health Science
Human Services | Principles of Human Services, Family & Community Services, Child Development, Counseling & Mental Health, Child Guidance, and Interpersonal Studies
Information Technology | Principles of Information Technology, Networking, Web Technologies, and Computer Technician
Journalism | Newspaper and Yearbook
Languages | Spanish I-IV and Computer Science
Law, Public Safety, Corrections & Security | Principles of Law, Public Safety, Correction and Security; Criminal Investigation; and Forensic Science
Manufacturing | Principles of Manufacturing, Welding, and Practicum in Manufacturing
Renewable Energy | Principles of Applied Engineering, Engineering & Natural Resources Technology; Scientific Research & Design; Principles of Technology; and Engineering Science
Speech | Professional Communication, Oral Interpretation, and Debate
Sports Medicine / Health | Health, Advanced Health, and Sports Medicine I - III
Transportation, Distribution, and Logistics | Principles of Transportation Systems, Automotive Basics, and Automotive Technology I & II
Snyder High School
3801 Austin Ave., Snyder, TX 79549
325-574-8800
questions@snyderisd.net